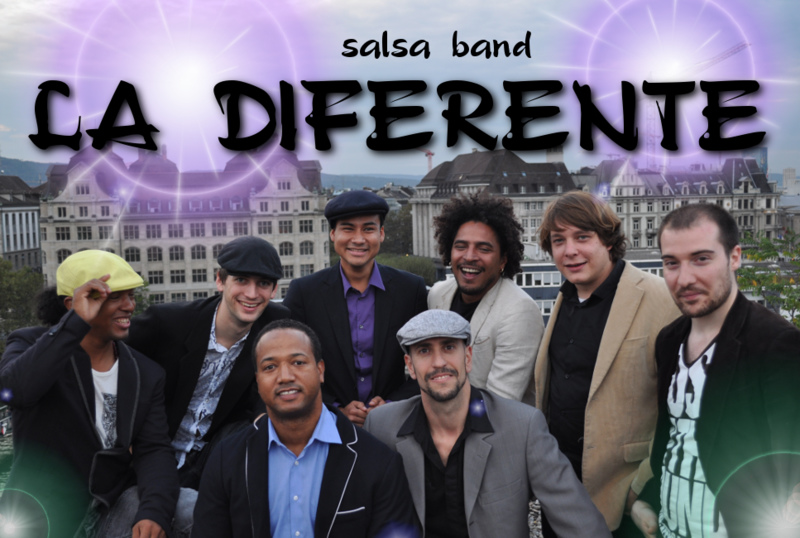 Franco Sellitto
La Diferente
La Diferente ist ein Feuerwerk aus heissem Groove, Energie und Lebensfreude! Die Band bringt jeden zum Tanzen und ist bis jetzt bei jedem Auftritt gefeiert worden! La Diferente besteht aus einigen der grössten jungen Talente der ganzen Schweiz (Tessin, Luzern, Bern, etc.). Das ehrgeizige Projekt wurde gestartet und wird noch immer geleitet von Freddy Benitez, einer der die Schweizer Salsa Szene kennt wie kein anderer. Der Hochschulabsolvent (Luzern) mit ecuadorianischen Wurzeln versteht es, ein ehrgeiziges Team zu bilden und die Band stets zu perfektionieren, aber auch die Leidenschaft und Freude zu fördern.
Haben Sie in nächster Zukunft einen grossen Geburtstag, eine Hochzeit , eine WG-Party oder ähnliches, bei welchem Sie Ihre Leute von den Stühlen reissen und tanzen sehen wollen? Rufen Sie uns an und wir versprechen Ihnen die lateinamerikanische Energie und Lebensfreude, die Sie sich für Ihren Anlass wünschen!
La Diferente is pure groove, energy and brimming over with life! Until now, the band was acclaimed in every concert and nobody could resist to dance! La Diferente is mixed up out of some of the most outstanding young talents of Switzerland (e.g. Ticino, Berne, Lucerne). This ambitious project was started and is still led by Freddy Benitez, the man, who knows the Swiss salsa scene like no other. As a highschool graduate (studied in Lucerne) with ecuadorian background, he knows, how to build an ambitious team and to raise the musical quality of the collective as much as the joy and passion of every bandmember.
Do you have a big birthsday-party, a wedding or some other party in the near future, where you want to get your people have fun and dance? Do not hesitate to contact us and we will suffuse you with that latinamerican energy and exhilaration you are looking for!
La diferente es una explosión de fuego, de ritmos calientes, energia y passión! La banda pone a todos a bailar y ha sido hasta ahora aplaudida con gran éxito en cada concierto! La diferente está formada por algunos de los músicos jovenes más talentosos de suiza (ticino, lucerna, berna, etc.). El proyecto ambicioso se creó y sigue estando bajo la dirección de Freddy Benítez, mismo músico que conoce la escena de salsa en suiza como ningún otro. El graduado de la escuela superior de lucerna ha sabido como agrupar un equipo de gente motivada con quienes trabaja arduamente para perfeccionar la qualidad musical pero tambien mantener la passión y la alegría.
Tiene usted próximamente una celebración de cumpleaños, un matrimonio o cualquier fiesta / evento en donde quieren poner a sus amigos a bailar? Llámenos y nosotros le prometemos la energía y passión de latinoamerica, q usted desea para su fiesta!


www.ladiferente.salsa.ch


Tel: +41-79-8556094